American Nationals 2012!!!!
We took a relatively small team to the 2012 IBJJF American Nationals (I assume most are still recovering from the Las Vegas Open trip LOL), 5 competition team guys in all, yet we came home with some serious hardware.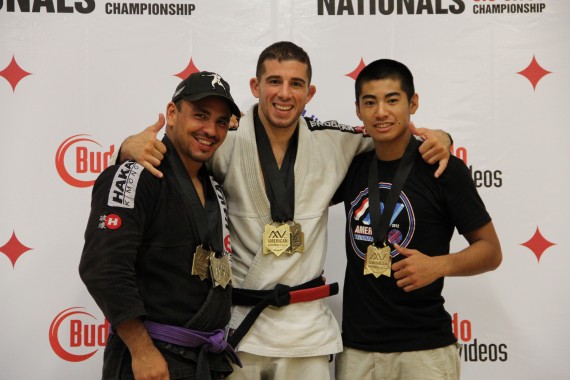 I got GOLD in my Gi division after two fights, GOLD in the NoGi division after one fight, and bronze in the Gi absolute after another two fights at the american nationals 2012.  Brown belt and El Dorado Hills Jiu Jitsu instructor Eliot Kelly took home GOLD in his division, purple belt competitor Rich "Dark Matter" Bothun took silver in his division and bronze in the absolute, and "Little" Richard Wong took GOLD in the blue belt feather weight gi and GOLD in the light weight no gi american nationals 2012.  If you see a pattern here let me know ;).  Almost everyone, with the exception of Rich Wong, who can not fight absolutes because of his age and weight, fought their absolute divisions and brought back hardware from the American Nationals 2012!
The opportunity to witness the performances of some of the greatest fighters also was a huge attraction!  There was no shortage of talent with beasts such as: Caio Terra, Samir Chantre, Quexinho, Tanquinho, Phellipe della Monica, Eduardo Cadu, Jonatan Novaes (whom I was VERY impressed with in his no gi win), taking to the mats to hunt for the hardware.  All of them brought a good fight and a masterful disposition at the American Nationals 2012.  I continue to feel lucky to witness and share the mats with such greats!
The tournament ran fantastically, and I commend the IBJJF for their continuing efforts to make our sport accessible to everyone.  It seems to run smoother every year and the production quality was near perfect.  I have not always been a fan of the IBJJF as I feel they should compensate the winners, especially in the bigger events such as the Worlds, Pan Ams, and Nationals, and feel that the reffing leaves something to be desired.  I now see their increased efforts and realize that the reffing is actually NOT the organizations fault but rather the interpretation of the individual.  Unseasoned reffing kills the reputation of the organization and after taking a referee course with the Man himself;  professor Alvaro Mansor, I have a renewed faith in the rules.  I digress….
Perhaps the most memorable moment for me this weekend, medals and competition aside, was a conversation I had with Johnny Wong (little Rich's father).  Mr. Wong, in an attempt to keep us awake on our tedious 8 hour drive, asked me a seemingly simple question that ended up being a discussion that has spilled over into conversations with many of the team members to this day.
"What is more important," as he begins I can tell he has thought this one through and is eager to study my response.. "a good instructor or a good student?"
The question itself is very simple and even writing it now I don't feel it's depth but once you get into its dynamics it is very difficult to define.  We crossed many different examples and analyzed our points of view.  We agreed on some things and agreed to disagree on others.  We went from sport to sport utilizing examples of Jon "Bones "Jones, Phil Jackson, Manny Pacquiao, Jiu Jitsu teams, etc.  Yet, ultimately, it was the opinion of a very quiet (I thought he was asleep really) yet analytical Rich Wong in the back seat.
" It has to be a mixture of both, instructor AND student."
The logic was sound.  The point was taken and it is irrefutable.  How could one argue that the best combination is a winning strategy and efficient application?  In reality you can't have one without the other and my discussion with Mr. Wong came to a screeching halt! Lol, we took every opportunity from that point on out to bring the topic up to other members of the gym just to hear their reactions.  Much as Johnny had done to me when he initially asked the question.  We knew the answer, but wanted to see how others would respond!  LOL Let me know what you guys think, I am interested in hearing from the audience.
Happy hunting