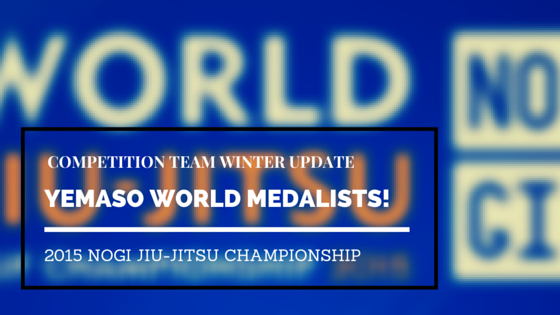 Shawn Cox and Billy English both fought hard and earned a bronze medal at the International Brazilian Jiu-Jitsu Federation's 2015 NoGi World Championships.
A lot of work goes into preparing for a tournament.  More so than we can adequately describe.  So, congratulations to both of them!
If you are wondering what "NoGi" means, here's an explanation:
There are two main ways that gi and no-gi grappling differ:
Clothing
Strategy and Techniques
Clothing:
The first, obvious difference between gi and no-gi grappling is in the attire.  In traditional  brazilian jiu-jitsu training and contests, practitioners wear a gi.  A "gi" can also be called a "kimono" and consists of a pair of heavy cotton drawstring pants, usually with reinforced knees, and a heavy cotton jacket with a thick collar and a hem that is notched on either side. One jacket lapel crosses over the other and the whole lot is kept closed with the belt.
In NoGi grappling, practitioners wear do not wear a gi.  Instead, they wear athletic attire made to withstand grappling activities, specifically rash guards and board shorts.  Ultimate Fighting Championship aficionados might be used to seeing male mixed martial artists in either only compression shorts or compression shorts under board shorts, but no shirt.  And female mixed martial artists tend to wear sports bras, perhaps a rash guard, and compression shorts and perhaps board shorts.
Strategy and Techniques:
Another difference between gi and no-gi grappling has to do with strategy.  In gi grappling, use of the gi – sleeves, collar, pant legs – figures prominently in gaining and controlling position, as well as in applying submissions.  Practitioners can execute collar chokes, or use the sleeve or the hem of the gi to tie up a partner's arm or hand. In no-gi grappling, on the other hand, grabbing the clothes is generally not allowed.  Instead, practitioners can try to control an opponent by gripping: the neck, the wrist, the elbow, the knee, the hips, etc.  This is also allowed in gi grappling, but is the only option in no-gi.  The lack of heavy cotton cloth to soak up sweat in no-gi grappling also tends to affect the pace of a match and the ease with which an opponent can slip out of a bad position.
At Yemaso BJJ, we strive to create a curriculum that is universal to both Gi and NoGi grappling that can work for men, women, and people of varying degrees of athletic ability.  We believe Jiu-Jitsu is for everyone.