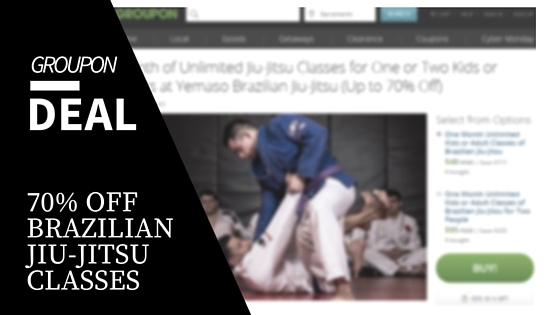 We are delighted to announce a huge discount on classes at Yemaso Brazilian Jiu-Jitsu! We have two separate Yelp deals for the people of Sacramento.
1. One month of unlimited classes for $49 without a long-term contract.
2. One month of unlimited classes for two people for $95 without a long-term contract.
These two deals represent, roughly, a 70% discount on our prices. We would be happy to see as many people take advantage of this as possible. Have you ever considered learning a martial art for self-defense? Are you a little bored with your regular gym routine to stay in shape?
Come by and give Brazilian Jiu-Jitsu a chance. There's no better time than now. Many of our members wanted to try Brazilian Jiu-Jitsu, but were intimidated to come in alone. So, we went ahead and included a deal for two people. It's always fun to learn something new with someone you know.
This Groupon offer is exclusively for new members that have never trained the martial art of Brazilian Jiu-Jitsu.
Click here to see the groupon and buy:
P.S. With Christmas coming along, this would make a great gift for someone who is very active, looking to learn self-defense, or looking for a new activity in their life.