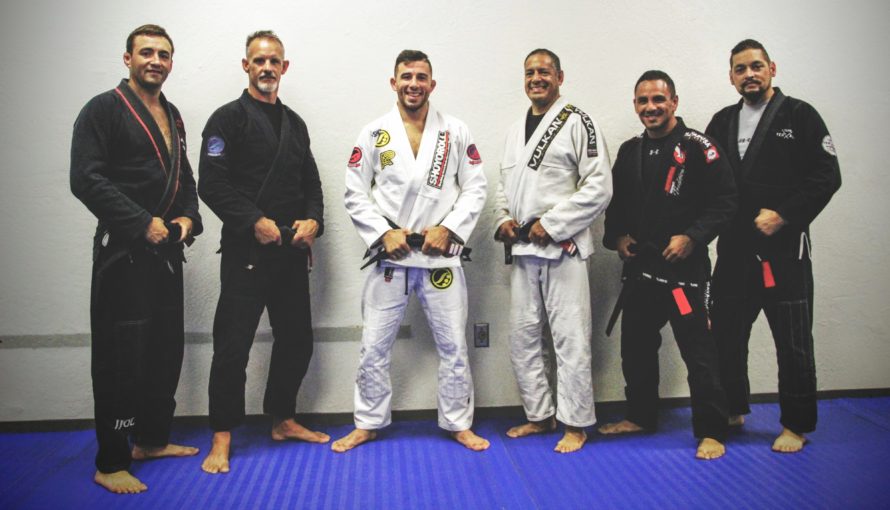 Team Yemaso promoted three martial artists to the rank of black belt.  Although every martial artist's journey is truly unique, it is generally accepted to expect ten years to achieve the highest ranking in the martial art of BJJ.
It is one of the most prestigious and exclusive groups in the entirety of the human experience.  And, this fall, we were truly lucky to witness the ascension of a new brown belt, three new black belts, and Professor Marcos' third degree which marks his ninth year as a black belt.  The third degree on Marcos' belt speaks to the adage that the journey never ends.
Kiet Se – Promoted to Brown Belt
Shawn Cox – Promoted to Black Belt
Richard Bothun – Promoted to Black Belt
Al Ramirez – Promoted to Black Belt
Marcos "Yemaso" Torregrosa – Promoted to Third Degree Black Belt
https://www.instagram.com/p/BLtcHWJggmr/?taken-by=yemasojj
Regarding the momentous occasion, Professor Torregrosa shared the following:
These four gentlemen are the men of the hour! I made the decision to promote men that I have known for the better part of my life. Mr Kiet Se, one of my original students in the Sacramento area, has earned his right to stand among the browns after many dedicated years. Coach Shawn Cox and Coach Al Ramirez, both having started with me many years before and following me in their paths at Team Yemaso having won numerous titles, have graduated to the big leagues! Rich Bothun becomes my 7th yet very first black belt graduated from blue all the way to black! Words fail to elaborate on the magnitude of influence these men have in my life. They have all LIVED their lives with me, sharing in social events, travel, children, and our beloved Jiu Jitsu. These men have worked so hard for this promotion. I congratulate them and feel so blessed to have amazing examples of what we are doing at Team Yemaso be such close friends.