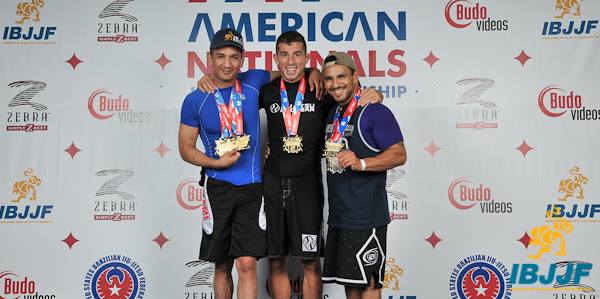 In the last several weeks, I was blessed with the opportunity to compete two times back to back; first at the IBJJF Las Vegas Open and, most recently, at the IBJJF Chicago Open.  Both were tremendous experiences filled with emotion and they were so close to each other that it felt like it was a extended dream!
Las Vegas
Vegas is always a great trip for me.  Besides the obvious enjoyment of being in such an intoxicating city, I regularly compete here.  The last couple editions of the IBJJF Las Vegas Open a group of competitors from Yemaso BJJ have participated.  It's always a great opportunity to fight against some of the most talented of the practitioners from the west coast and, as I have said before, it is important that we prioritize what events we participate in.
The IBJJF has the most consistent presentation and professionalism in their events and we will continue to support our confederation in their ever expanding attempts at making the sport we love THAT much more presentable.  The Las Vegas Open is no exception and the event ran smoothly even including online brackets with real time developments.  I was very impressed with the presentation this year!
Our team did very well and of 10 competitors we brought back 11 medals!  
It is always such a challenge for me as a coach to get around to every fight of my team mates and I find myself each and every time BARELY making it to their matches only to begin screaming directions!  Lol, Even more difficult is that I often lose track of time and end up needing to run to the bull pen to get to my own fights at the last minute!  The day is somewhat of a blur for me as my emotions run far higher coaching the guys than when I myself fight.  I feel like when I fight I am at home, very tranquil and focused and I am even known to lay down and sleep if left alone in the bull pen for too long (lmao)!  When I coach, though, that is a different story and I find myself jumping up and down in excitement, talking to people close to me, laughing and getting emotional when I see each individual achieving their goals.  After all, I was there with them when they killed themselves in training and know just how hard they worked to get there.
However, I'm not too sure about being honest about this but, I get frustrated when coaching sometimes as I know the capabilities of each and every student and since I know the game and strategies well, I get anxious when things don't go their way.  But, this is a learning process that accompanies both student and instructor.  I mature with them as they gain strategic experience and understand the complex nature of the game.  Many times I take for granted that I have a lot of experience and that I am a tactician, attributes that are acquired over many , many years of doing tournaments and no matter how hard I try to prepare mental processes in my students, some of these lessons are learned the hard way.  This is yet another reason why I compete so much; I want to be savvy when necessary and intuitively strategic as to maximize profit and minimize loss.
Chicago
This was my second time in Chicago this year, the first in the MUCH colder month of March and yet again I pestered the Redzovic brothers, convincing them to help me in my stay in their gym.  The Redzovic brothers have all been extremely hospitable and at the gym ("The Loop" for those wondering) off Michigan Ave were a number of other travelers from across the globe looking to get their hands on some IBJJF hardware in Chicago.  It is always really cool for me to travel to new places and meet new people and BJJ has given me an endless fountain of new influences.  Saturday began with the gi and I fought two fights in my division.  I won the first by armbar and the second by points against a tough competitor in Zach Lenon.  This was not our first encounter and, being the active competitor he is, I doubt it will be the last.  I really enjoy our matches and was fortunate enough to also have another final with him, this time in a no gi match on Sunday.  I took gold in both my gi and no gi divisions and also took a bronze for my efforts in the gi absolute.
The absolutes are crazy sometimes!  I fought in my semi final match a super tough ultra heavyweight from Nova Uniao named Leo Pecanha and he was probably my favorite match of the last two weeks.  I lost the match, but I learn so much rolling from bigger guys like that. He passed my guard by smashing my hips, something that rarely happens for me and even less in competition and it's always really fun for me to try all my tools to get to my power positions.
After my no gi final on Sunday Idriz Redzovic made some recommendations on places to visit and places to eat so I hit the town with my girlfriend Valerie Guzman who, in visiting from Puerto Rico, has also been bitten by the competition bug and has already collected two IBJJF medals in the last month!  She took gold as well in Chicago with a perfect performance of two fights.  We decided to spoil ourselves rotten by hitting the Navy Pier after gorging on some deep dish pizza at Giordanos!  We ate dessert at the Ghirardelli restaurant, also on Michigan ave and, after more than 3 weeks of making weight, we almost couldn't keep it down!
American Nationals
Immediately following Chicago, it was time to bring the diet back down to competition form as it was time for American Nationals.  Yemaso BJJ did not disappoint.  We brought back over 15 medals from 7 competitors.  It was a great showing of the work we have been putting in.  Check out the American Nationals story below:
[youtube=http://youtu.be/rPHWB9E-y2g]
Master Senior Worlds, we are coming!
Happy hunting!
Osu