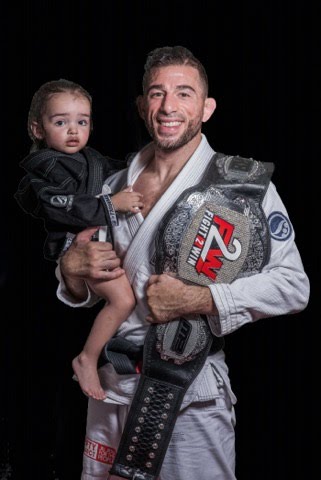 Marcos "Yemaso" Torregrosa is a Third Degree Brazilian Jiu-Jitsu Black Belt and head instructor of Yemaso BJJ.  Marcos studied with and received his black belt from 2003 world champion and fellow Sacramento BJJ Instructor Cassio Werneck.  Marcos was born and raised in Puerto Rico.  His first encounter with Brazilian Jiu-Jitsu occured in Bayamon, where UFC 8 took place.  Soon after, Marcos moved to the Sacramento and began training July 1999.  Marcos has been regarded, by many, as a great instructor of jiu-jitsu since his days as a blue belt when he would take over teaching if the black belt was not there to teach.
In addition to being a Sacramento BJJ Instructor, Marcos worked with Cache Creek Casino as their defensive tactics coordinator, he has a contract with the Woodland S.W.A.T. Team for combative instruction, holds a brown belt in Judo, holds a black belt in Taekwon Do, and competed in boxing as an amateur in his younger years.
Marcos is currently sponsored by: Shoyoroll, Defense Soap, WarTape Brand, and NHB Gear.
Although Marcos attained his black belt in 2007, and he is widely regarded as one of the best, he continues to regularly study and train with the world's best grapplers in the pursuit of complete mastery in the art of brazilian jiu-jitsu.
Brazilian Jiu-Jitsu Tournament Titles
Over the course of Marcos' competitive career, he has amassed a cumulative, comprehensive, and spectacular amount of titles of the highest merits. Below is concise list:
Five-Time World Champion

Five-Time Pan-American Champion

Nineteen-Time National Champion

Three-Time Grappler's Quest Champion
For a complete list of professor Marcos' titles click here.
Contact Marcos: