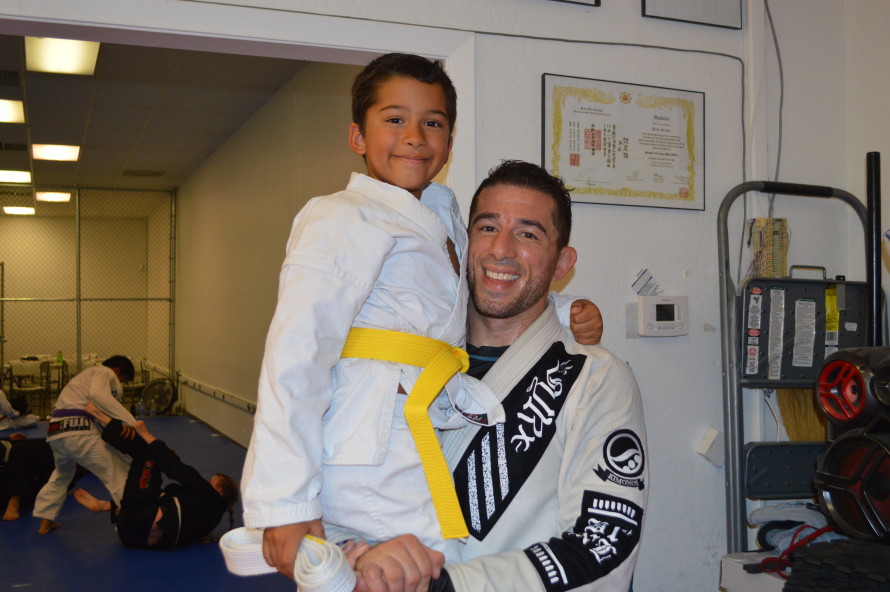 HELLO!  I am Marcos "Yemaso" Torregrosa, owner and head instructor of Yemaso Brazilian Jiu-Jitsu Academy in Sacramento.  I want to personally THANK YOU for taking the time to find our website and read about the programs we have to offer you.  So, please, give me a few more minutes of your time to explain what we do, and how we can help you.  I truly believe we are offering something that will change YOUR life FOREVER, as it has for many men, women, and children who have joined our  Sacramento BJJ Academy.
LOOK NO FURTHER
If you are truly interested in Brazilian Jiu Jitsu, Self-Defense, Submission Wrestling, NoGi, Judo, or Mixed Martial Arts training, you've found the right place. There are many schools claiming to be able to train you in Mixed Martial Arts or BJJ but you need to be very careful. Many of these instructors have never fought in a MMA contest or won in any prestigious BJJ tournament. You should always inquire about the instructor's credentials before seriously considering joining their academy. Anyone can just throw an unprepared fighter out to get destroyed by lions, but you should want something better for yourself whether you choose our academy or not. Choose an academy that has a proven record to help you reach your goals.
Here are my credentials for you to go over.
Our program is for everyone – men, women, and children. You can be small, short, tall, thin, big, young, or old. Absolutely no experience is necessary. Our instructors will teach and develop a style that works best for your specific circumstance.
Out of shape or never exercised a day in your life? No problem! Most people who begin training are not in shape. At Yemaso Brazilian Jiu-Jitsu, our instructors will work with you to help you reach your goals. Our martial arts expertise combined with our experience and knowledge in physical fitness have helped students become champions as well as lose weight and get into shape.
We will gradually guide you on the journey to success.
Yemaso BJJ Academy is one of the best academies in the Sacramento area.  Professor Marcos Torregrosa is a World Champion and has competed and won many elite tournaments in the U.S. and Brazil.  Marcos, being a very technical BJJ practitioner, is very detailed in his instruction of various techniques.  He not only shows you the techniques, but all the intricacies of the movements.  He takes a personal interest in all his students and has great pride in seeing their progress.  The academy promotes a family friendly atmosphere and all the students are very polite and respectful.  This academy is for everybody, whether you want to compete in tournaments or just to lose weight and get in shape.  I've trained at other academies and this is by far the best.
S.T.
Yelp Filtered Reviews
Read our Yelp listing and some of the things reviewers had to say.
YOU are now one step away from joining the community of men, women and children of all ages who have been enhancing their quality of life through the Yemaso Brazilian Jiu-Jitsu system!
When it comes to Brazilian Jiu Jitsu, BJJ, No Gi, Submission Grappling, etc in the entire Sacramento Region there is really no other true competitor. Sure, there are other places to go, but after checking out other places let me tell you why Yemaso BJJ is the only place worthy of your time. Yemaso BJJ: *  The only academy with an active world champion instructor *  The only academy that is always evolving with the newest BJJ techniques, methods, and strategies. *  In a ratio of competitors to medalists, Yemaso BJJ is the most successful  *  The only academy where the instructor will go with you to your tournaments and coach you there.   Like I said, there are other schools.  And, they may have black belts, but none of them are at the level of Marcos ability in grappling or in teaching which he excels in both. In addition, some of the other stuff which is also important: *  Mats are always clean *  Marcos is a very friendly and engaged instructor *  The entire team at Yemaso BJJ is very friendly and they do what is necessary to rid of tough guys and ego maniacs. Don't waste your time or money going anywhere else.  Marcos is your favorite black belt's favorite black belt…
Ruben A.
Yelp Filtered Reviews
For those of you looking strictly for a means to learn self defense, consider the following:
95% of all self-defense situations end up on the ground or in the grappling range, YET grappling remains the most neglected form of self-defense in most martial art systems.
[youtube=http://www.youtube.com/watch?v=UR7l4pfD3Rw]
Bottom line: if you can't defend yourself on the ground then you DON'T know how to truly defend yourself.
GET READY to experience a workout that makes you mentally and physically strong while learning the MOST EFFECTIVE way to defend yourself. We want to invite you to our Sacramento location to take advantage of our INCREDIBLE INTRODUCTORY OFFER! Join our team today and learn about the hottest and most talked about self-defense training system in the world. Patience, commitment, will power, and a positive attitude are all you need.
[button font_size="20″ color="#3A5199" text_color="#ffffff" icon="arrow-circle-o-right" url="http://www.yemasobjj.com/subscribe/" width="100%" target="_self"]Contact Us for an Appointment[/button]